Vata Dosha
If you often suffer from gas, bloating, body pains, irregular periods, overthinking, dryness, and discoloration of the skin, hair be sure that your Vata dosha is imbalanced in this article, I will share with you the most effective ways to resolve all these problems from their very root cause.
Vata is the most important of the three doshas that are responsible for all physical processes in general.
When we say Vata, three words should strike you, dry, cold, and light.
Vata imbalance symptoms
So when Vata dosha gets imbalanced, it causes
Indigestion problems like gas and bloating turn up.
It gets hard to gain weight.
The skin tends to be too; dry hair gets rough and light.
Problems like dry eyes, chapped lips and cracked feet crop up.
Anxiety, depressive thoughts, weak memory, overthinking, and chattering minds indicate dryness in the brain nerves.
Anybody's pain, Vata is the force behind it.
Vata disorders are pigmentation and discoloration of the skin, shivering irregular periods, and kidney and gallbladder stones.
But what causes Vata imbalance in the first place?
People who chuck the oils entirely out of their life and indulge mostly in oil-less foods, eat a lot of raw fruits and vegetables, indulge in un-soaked nuts and seeds, consider spices to be their villains, invite Vata problem
Apart from this, never oiling the head, traveling a lot, eating at irregular timings, long fasts, high intake of tannin and caffeine, talking too much, overthinking, sleeping too little, exposure to cold environments can cause Vata to aggravate.
How can Vata Dosha be balanced?
Since Vata is dry, cold, and light, the opposite of it will balance it. Just as a machine needs oiling for proper functioning, our body is machinery that requires lubrication too.
Warm oil is heavy, heating, and obviously, oily making it a potent tool for pacifying Vata. Ayurvedic scriptures list easy and effective ways to balance Vata dosha at home.
1. Abhyanga
On top of the list is abhyanga, which is self-massage. When we oil to massage the body, it gets much-needed lubrication, and the heat generated in the process balances the cold nature of Vata.
So if you suffer from Vata problems, you should oil massage your body daily or a minimum of three to four times a week.
You can massage in the morning before bathing or in the evening, whatever is comfortable. Cold-pressed sesame oil is the best for you. Mustard oil can also be used. It is advised to massage towards the flow of your heart.
Spending 10 minutes is good enough. It will balance the Vata, and as a result, you will get soft and lustrous skin.
Read more, Home Remedies for Detoxification – How to Detox Your Whole Body
2. Gandush or oil pulling
Another practice that balances Vata internally is gandush or oil pulling as it is popularly called. Fill your mouth with sesame or mustard oil and swish it in and around the mouth for at least 10 minutes.
To save time you can combine it with your other daily activities. Such as a rewarding practice, it lubricates the food pipe and whitens the teeth, making lips pink and reducing facial wrinkles
3. Orifice Oiling
Every time after bathing, take some sesame or mustard oil and, using your fingers, oil your navel, your nostrils, your ears, and your anus. This lubricates the significant openings in the body, removing the excess air trap. This is another powerful practice for Vata balancing.
4. Nasya
If you suffer from problems of the mind like anxiety, depression, or, OCD, you should practice Nasya before sleeping at night.
"NASA hi shirsho dwaram",
This shloka from Ayurvedic scripture states that the nostrils are the door to the brain; putting in two drops of cow ghee or any other medicinal oil lubricates the nerves in the brain, which can prove excellent while dealing with mental issues.
Food is Medicine – Vata balancing diet.
If you eat right, you can keep your doshas in balance. Sweet, salty, and sour foods help balance the Vata dosha, so don't shy away from indulging in homemade sweets prepared with ghee and jaggery powder.
On the other hand, bitter, astringent, and pungent-tasting foods aggravate Vata.
Read more, Ayurveda Body Type-Vata Pitta Kapha Characteristics.
Spices
As they ignite the digestive fire, spices are your best friends, especially black pepper, cumin, bay leaves, asafetida, black cardamom,, chilies and ginger.
Include Desi A2 milk and milk products, as they provide the much-needed lubrication to your body. Milk with a teaspoon of ghee mixed is a boon for Vata Disorders like joint pain and body dryness.
Since Vata person has weak digestion, eating after sunset may cause indigestion and gas issues.
However, if you choose to eat, start with slices of fresh ginger with a pinch of rock salt and lemon juice, and make sure you keep the portion size of your meals according to your digestive capacity.
Khichadi prepared using equal quantities of hand-pounded rice and whole moong dal with a teaspoon of ghee into it is one Of the best meals for you; relish it often.
Raw foods, salads, green leafy vegetables, kidney beans, cauliflowers, peas, potatoes, and mushrooms tend to aggravate Vata and should be consumed in moderation.
The cold drinks should be cut down rather than warming and grounding herbal teas, soups, besan cheela, besan Shira and milk Dalia are ideal for you.
Masala chaas or buttermilk post-lunch helps keep Vata in check.
Ditch refrigerated foods and eat freshly Prepared meals, using ingredients in season.
In a nutshell, Vata remains pacified when you follow a fairly fixed routine every day. Sleeping well on time is crucial, as it keeps the dynamic and mobile nature of Vata balanced.
Exercise such as strength building and sports with slow directed movement pacifies Vata.
Over-exertion is to be avoided.
Yoga practice is beneficial to keep over-excited Vata in check.
The most effective pranayama for Vata is the Anulom vilom which keeps them calm and grounded.
Pavan muktasana, or the gas release pose, removes excess air from the body.
In general, if you suffer from Vata disorders, you should practice yoga asanas slowly and gently.
Meditation is another highly recommended practice for Vata. Sitting in sunlight for some time will keep your body warm, digestion up, and body pains at bay.
If we sum up, Vata is dry, cold, and light. To balance it, oil massaging the body, oil pulling, Orifice oiling, and Nasya is the best practice.
Reduce the intake of bitter pungent and astringent foods. Indulge more in sweet-salty and sour foods. Include milk and milk products.
Read more, Ayurvedic Diet – The Only Diet Plan That Ayurveda Recommends
Reduce leafy vegetables and cold drinks. Warm drinking water, peas, soups, besan-based foods, and khichadi are recommended.
Exercise should not be too exhaustive. Yoga and meditation help pacify Vata. Sleep well and on time.
If you include the above practices as a part of your lifestyle, you will see your digestive problems subside; body pains will reduce, periods will get regular again, the weight will normalize, memory will sharpen, the skin will radiate, hair will get shiny, and your mind will experience a sense of calm and body enthusiasm.
That's the power of balancing Vata dosha.
I hope you will like this information.
Summary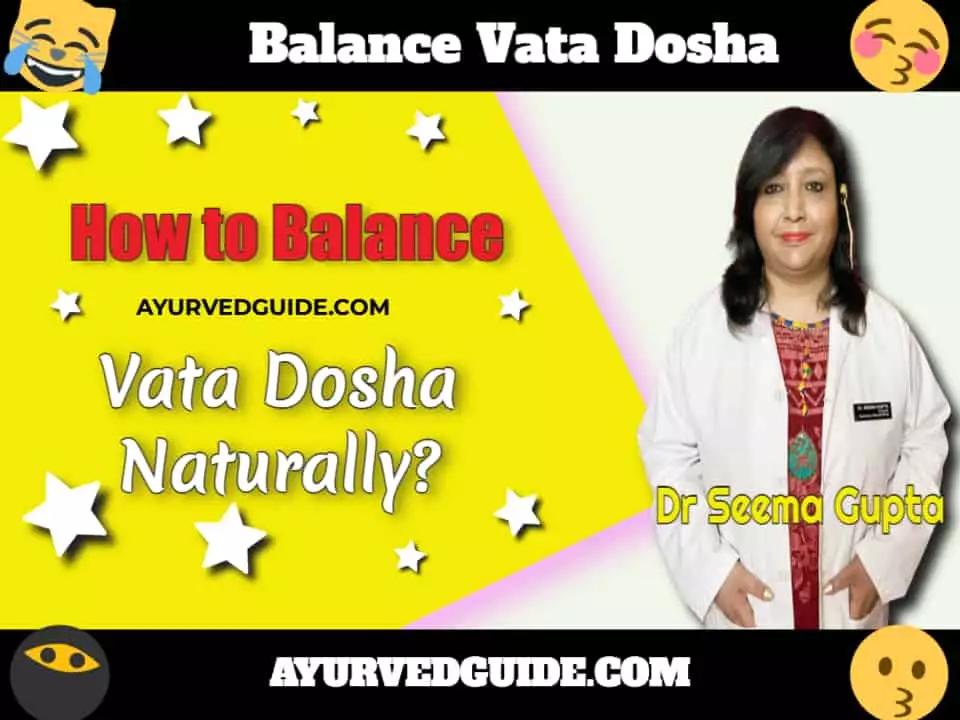 Article Name
Balance Vata Dosha - How to Balance Vata Dosha Naturally? (Gas, Bloating, Body Pains, Dry Skin)
Description
Balance Vata Dosha - How to Balance Vata Dosha Naturally? (Gas, Bloating, Body Pains, Dry Skin)
Author
Publisher Name
Publisher Logo