Detoxification is a process in which harmful chemicals and toxic substances, such as pesticides, industrial wastes, and the products of metabolism, are removed from the body.
The human body is constantly exposed to potentially toxic substances, both from outside (e.g., in contact with the air and water) and inside (e.g., produced by digestion and metabolism). The removal of these harmful substances is vital to maintain their normal functions.
Sometimes this process occurs naturally; other times it needs to be assisted by artificial or natural means. This is accomplished via different organ systems, which include the skin, lungs, liver, kidneys, and gastrointestinal tract.
These organs need support from dietary intake and specific supplements such as herbs and nutrients that can aid in removing toxic elements faster.
There are many things that can make your body more toxic than it should be. These include smoking, drinking, ingesting too much caffeine; eating junk food; taking over-the-counter drugs like aspirin or acetaminophen (Tylenol); using prescription drugs without a doctor's supervision; wearing perfumes every day; breathing polluted air; living in a slum area, etc.
Detoxification, or cleansing of the body, is one way to keep it healthy and prevent illness. Although detoxification is especially important for people with high-stress levels and sedentary lifestyles,
Everyone can benefit from detoxification. This is because we are exposed to many toxins every day through the air we breathe, the food we eat, and contaminated water. By regularly cleansing your body of these toxins, you can improve your overall health.
Home Remedies for Detoxification
1. Lemon water to detox the body
If you're not drinking lemon water every morning, you're missing a huge opportunity to detoxify your body and kick start your metabolism.
The key to understanding the importance of lemon water is the liver. Your liver is a chemical processing plant that takes in food and drink and turns out energy, nutrients, and toxins. It also turns out cholesterol and bile salts, which help process fats.
If you eat a typical diet, your liver has a lot of work to do. It has to neutralize all the processed sugars and artificial sweeteners, plus all the pesticides on your conventionally grown fruits and vegetables, plus all the additives in your conventional breakfast cereal, not to mention all the alcohol you drank last night.
Chances are that your liver needs some help, which is where lemon juice comes in. Lemons contain a variety of antioxidants known as flavonoids that stimulate Phase II detoxification enzymes in the liver. These enzymes transform fat-soluble toxins into substances that can be eliminated by the kidneys or gut without being absorbed into the bloodstream.
Lemons also have an alkalizing effect on the body. Most people today are too acidic, which stresses the kidneys and triggers the production of inflammatory stress hormones like cortisol and adrenaline.
Lemon water is the best drink to detoxify your body. It helps flush out toxic elements from the stomach and intestines. Lemon water also helps to prevent kidney stones, gallstones, bladder infections, dry skin, constipation, hemorrhoids, bad breath, dandruff, excessive body fat, and fatigue.
2. Buy Organic Products – Home Remedies for Detoxification
If you want to detoxify your body, it is much better to buy organic food than to eat tofu or drink green tea. Why? Because if you fill you're shopping cart with organic products, you will be consuming fewer toxins than if you fill it with conventional products.
The "natural" toxins in our food are for the most part synthetic ones that occur as by-products of industrial farming or food processing. These include pesticides, herbicides, and fungicides, heavy metals like lead and mercury, and artificial sweeteners like aspartame.
Organic foods are less likely than conventional foods to contain these compounds because they are grown or processed without them.
Read more, Home Remedies for Psoriasis – Psoriasis treatment at home
Other potentially toxic chemicals occur naturally in our foods all the time. For example, the protein gluten has for centuries elicited an autoimmune reaction in people who were genetically susceptible to celiac disease.
But genetic susceptibility spread unevenly through human populations; only about 1 percent of Europeans but almost 100 percent of Native Americans had it — until recently. Modern agriculture, which relies heavily on wheat and other gluten grains, has greatly increased the prevalence of the celiac disease.
We now know that many other common proteins also elicit autoimmune reactions in susceptible people (and even in many who aren't especially susceptible). These include soy.
3. Eat an apple in the morning or as a mid-morning snack – Home Remedies for Detoxification
If you want to feel healthy and full of energy, start your day with an apple. If you don't want to feel heavy and tired during the day, then you need to detox your body once a week. One of the best ways to do that is to eat an apple every morning.
When you eat an apple for breakfast, it will cleanse your liver and digestive system of all the toxins accumulated during the week. It will make both your stomach and your kidney work properly, which is essential if you want to maintain a healthy weight. And it will help you burn fat more effectively and boost your metabolism naturally.
There are many other benefits of eating apples like they improve your brain function and memory; they help control blood sugar levels; they strengthen bones and muscles; they lower bad cholesterol levels in our body; they reduce inflammation; they reduce pressure on the heart etc.
In addition, apples contain pectin fiber that cleanses the colon from waste materials. Apples also have a high antioxidant value that protects cells from free radicals that cause premature aging of the skin. Apples contain vitamins E, B1, B2, C as well as minerals such as calcium, copper, phosphorus, potassium, etc.
Read more, Panchakarma-Panchakarma Treatment|Panchakarma Benefit|Panchakarma Ayurveda
Apples are a great source of antioxidants.
4. Raw Food is best to keep you Detoxifying – Home Remedies for Detoxification
Raw food is food that is not cooked or processed in any way. It can be eaten as a soup, as a salad, as a juice, a smoothie, and as a sprout. This food does not contain any chemical additives and preservatives. Raw food is best to keep you detoxifying because the enzymes in raw food are still alive. So when you eat it you are able to digest it faster than if you were to cook it.
The benefits of cleansing with raw foods include weight loss; reduced swelling.
Raw food is made of what we eat and can be divided into two categories: fruits and vegetables.
Fruits are made up of sugars and water. Vegetables are mostly made up of starch, with some protein and fiber. Grains, nuts, and seeds are neither fruits nor vegetables; they are seeds.
Chronic diseases like cancer and diabetes result from toxins building up in the body. These toxins can be produced by our body (like urea) or come from external sources like pollution and pesticides in our air, water, and food supply.
Diseases like arthritis, allergies, and asthma can also be caused by pollutants in our bodies that we ingest daily through the foods we eat. You have to detox your body by not allowing these toxins to enter your body in the first place for you're to live a long life free of chronic diseases.
5. It's good to take a spoonful of Turmeric daily to Detox
Turmeric is a spice that is used all over the world, and it has been used since ancient times. It is mostly known for the bright yellow color that it adds to food, but it also has many health benefits.
To start with, if you want to detox your body, you will need to improve your digestion and cleanse your liver. Turmeric can help with this because it improves the flow of bile and has anti-inflammatory properties. This means that it can help break down fatty foods and rid the body of toxic substances.
The volume of bile produced by the body increases significantly when turmeric is consumed. This allows for better digestion and better absorption of nutrients from the foods that you eat. Additionally, due to its anti-inflammatory properties, turmeric can reduce swelling and pain in joints.
If you are looking for something to detox your body, you should consider taking a daily teaspoon of turmeric sprinkled on food or in a drink at least once a day.
It is good to detoxify your body regularly. You can do that by taking a teaspoon of turmeric with warm water daily. Turmeric is not only good for detoxifying but also for curing many health problems.
The active ingredient in turmeric is curcumin. Curcumin has anti-inflammatory properties and hence it helps in reducing the pain caused due to inflammation.
Therefore, you can use turmeric as a home remedy for pain relief. It also helps in reducing the stiffness felt in joints. Moreover, it controls the swelling of the joints, caused due to injury or arthritis.
I hope you will like this information.
Summary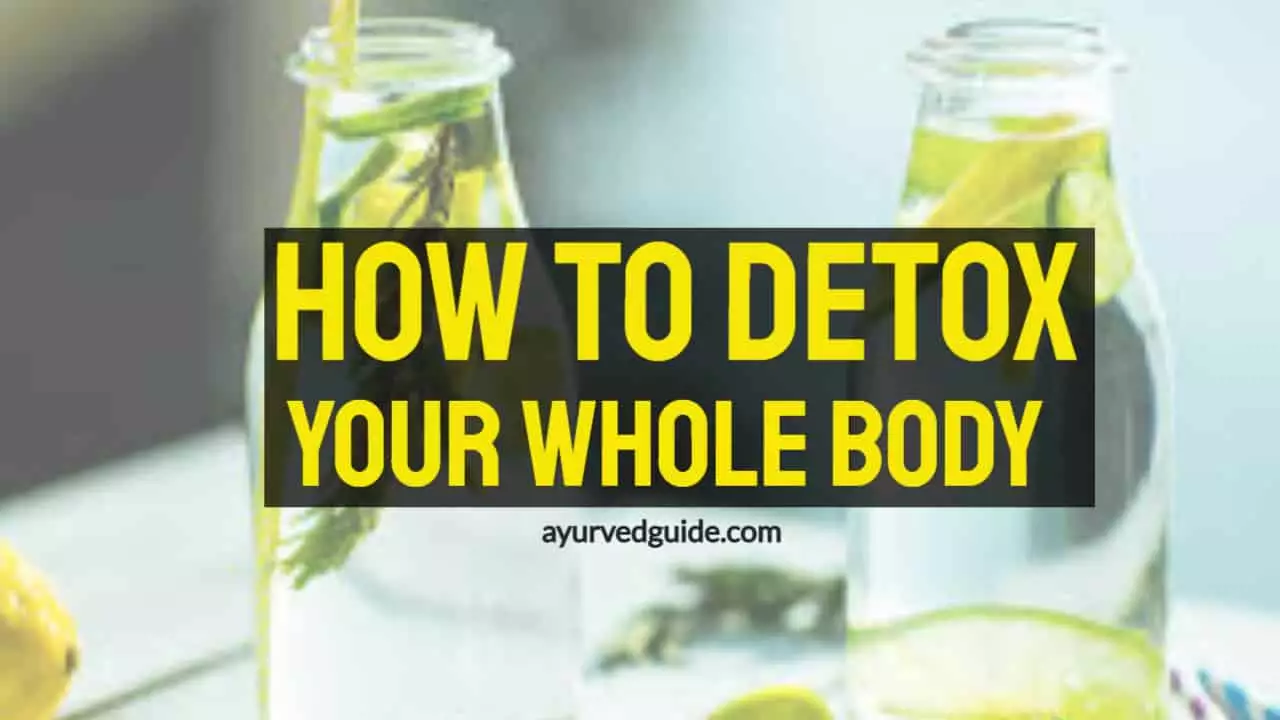 Article Name
Home Remedies for Detoxification - How to Detox Your Whole Body
Description
Home Remedies for Detoxification - How to Detox Your Whole Body
Author
Publisher Name
Publisher Logo