What is diarrhea?
The question sounds like a joke. But the nature of diarrhea is itself a serious issue.
If you think about it, diarrhea and constipation are opposite sides of the same coin. On the one hand, you have to be able to move things through the gut quickly; on the other hand, you don't want them to move too quickly. So, constipation means that things move through your gut too slowly; diarrhea means they move through too fast.
If that's right, then what is diarrhea?
It's when the gut moves things through too fast for them to be absorbed properly — either because there isn't enough fluid in the gut or because something blocks the gut to absorb.
Tips to Cure Diarrhea as Per Ayurveda – Home Remedies for Diarrhea Ayurveda
Ayurveda is the ancient Indian tradition of medicine. The word Ayurveda means the science of life. This medicinal system is based on the theory that all living beings are made up of five basic elements called Panchamahabhutas or Mahabhutas.
These five basic elements are Earth, Water, Fire, Air, and Space. Ayurvedic treatment mainly focuses on balancing the three Dosha in our body i.e., Vata, Pitta, Kapha to achieve health.
Vata dosha is responsible for the movement of air; Pitta dosha is responsible for digestion, while Kapha dosha plays a major role in the formation of tissues in the body. A proper balance of these three doshas plays an important role in maintaining good health.
Ayurveda has many treatments for curing different kinds of ailments. A common ailment that most people suffer from is diarrhea.
The Ayurvedic doctor will ask you a lot of questions to find out what your symptoms are and how do they occur?
How long have you been experiencing them etc.? Once he gets all the details he may start treating your illness with herbal remedies or suggest you change your diet according to your Dosha imbalance.
Ayurveda is not only used for curing diseases but also to maintain well-being and longevity. It helps in coping with stress and anxiety to bring about tranquility in life. It also helps in understanding one's body better by identifying its strengths and weaknesses through Vedic mantras and tantra.
Read more, Carom Seeds Benefits Home Remedies Weight loss Side Effects
Causes of Diarrhea
There are a lot of people who have the problem of Diarrhea. Though diarrhea can be caused by a number of different reasons, most of the cases are caused by food poisoning, viral infection, bacterial infection, and irritable bowel syndrome.
Home Remedies for Diarrhea Ayurveda
In all these cases you need to get quick relief from your problem. The best way to treat diarrhea is to take some home remedies.
Here are some tips which can help cure diarrhea as per Ayurveda:
1. Ginger with Honey to treat diarrhea
Ginger with honey is a natural remedy for diarrhea. The combination is so tasty that small children will drink it willingly.
To make ginger with honey for treating diarrhea, mix equal parts of grated ginger root and honey. To treat an adult, mix about one teaspoon of the mixture into a glass of water.
For a child, use about half this amount. The taste is very palatable, so there is no need to disguise the medication.
2. Rice with curd to treat diarrhea – Home Remedies for Diarrhea Ayurveda
Rice with curd (khichdi) is a very effective home remedy to treat diarrhea. It is easy to digest and it gives instant relief from the watery stool and frequent urination.
You may also include some spices like pepper, cumin seeds, and a few cloves in the rice before peeling and cooking them.
Ingredients:
Rice – 2 cups
Curd – 1 cup
Curry leaves – 1 sprig
Salt – as per taste
Pepper powder – 1/2 tsp.
Oil – 2 tsp. Mustard seeds – 1/2 tsp.
Sesame seeds – 1 tsp.
Procedure:
Heat oil in a pan. Add mustard seeds and allow spluttering. Add sesame seeds and curry leaves. Add salt and pepper powder to the rice and mix well. Keep aside for 5 minutes.
Mix cooked rice with curd nicely. Add the required quantity of water to prepare a porridge-like consistency. Serve hot with a dash of lime juice or lemon juice on the side if preferred.
The rice-and-curd combination is still often given to children in India with diarrhea.
3. Drink Warm Water Frequently to treat diarrhea
During diarrhea, drink warm water frequently. Warm water is good for the stomach and intestines.
If you have diarrhea but are also thirsty, it may be that you are already dehydrated. Then the best way to replace lost fluids is to drink a little warm water at frequent intervals. Cold drinks are likely to cause cramps in the abdomen.
4. Coconut Water to treat diarrhea – Home Remedies for Diarrhea Ayurveda
Coconut water is a liquid inside young coconuts. It's also known as coconut juice, coconut milk, or water. In some countries including India, it is given to treat diarrhea.
It has been said that it "works wonders" in treating children with cholera, dysentery, and other illnesses caused by bacteria and viruses.
Coconut water is a rich source of potassium and electrolytes, which can replace the lost body fluids and help with rehydration.
In addition, coconut water helps to replenish the electrolytes in the blood. So for adults who have diarrhea, two glasses of fresh coconut water a day will help to improve their condition.
Coconut water is more effective than most other home remedies for diarrhea, especially if it is drunk as soon as possible after the onset of symptoms.
Read more, 6 Home Remedies for Dry Cough – Dry Cough Cure
5. Avoid Fast Foods/Junk Foods to treat diarrhea
It's always better to prevent diarrhea than to treat it. But if you do get it, you should know what to do.
Most diarrheas are caused by infections or food poisoning. The most important reason for getting diarrhea is to get rid of the infection, so that's how you should treat it. The best way to keep from getting it in the first place is not to eat junk foods.
Most cases of diarrhea are mild, meaning that if you stay hydrated, they will go away without treatment. If your stool is loose but not watery, drinking a lot of water will usually be enough. If it's watery, then you have more reason to worry.
6. Add Fiber to Your Diet to treat diarrhea – Home Remedies for Diarrhea Ayurveda
Many people who have diarrhea or abdominal pain also have low levels of fiber in their diet. If their stools are loose and more frequent than normal, they should increase their intake of whole grains, bran, and fruit.
Fiber is important for digestion. The more fiber you eat, the less likely you are to suffer from diarrhea, constipation, and irritable bowel syndrome. Eating too little fiber can cause nutritional deficiencies, especially in iron, calcium, and zinc.
One gram of fiber has the same effect as one liter of fluid in easing constipation and diarrhea. If you want to add fiber to your diet, aim for 14 grams a day.
Fiber is found in grains (whole grains are best), fruits, vegetables, legumes, and nuts. Some fiber is not digested by the body but helps food move through the digestive tract more easily.
There are lots of ways to increase your fiber intake. Whole-grain bread, rice, and pasta; whole-wheat couscous; brown rice; nuts; seeds; fruit (especially apples); beans (especially baked beans); green leafy vegetables; broccoli.
 I hope you will like this information.
Summary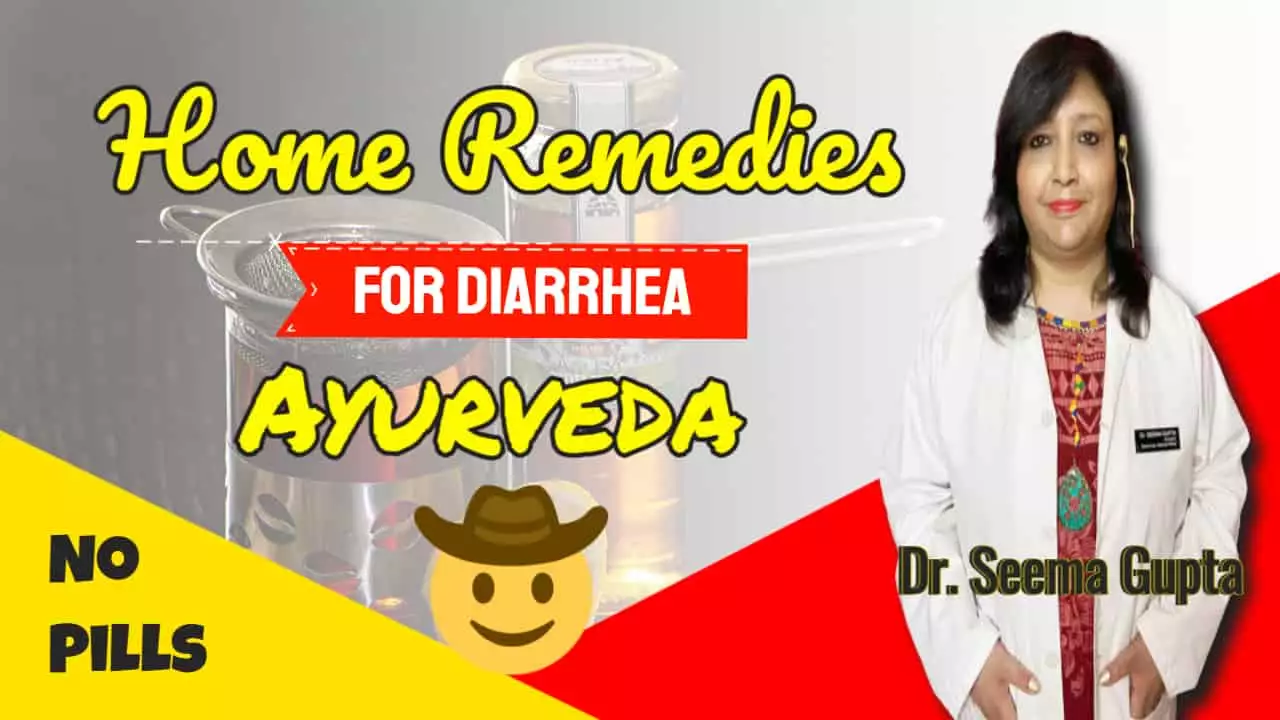 Article Name
Home Remedies for Diarrhea Ayurveda - Loose Motion Best Home Remedies
Description
Home Remedies for Diarrhea Ayurveda - Loose Motion Best Home Remedies
Author
Publisher Name
Publisher Logo