In this article, let's know, dietary triggers of migraine headaches.
Here, we will talk about a large list of foods and beverages that are known to trigger migraine headaches in some individuals.
What migraine headaches are.
These are pulsatile and often unilateral head pain that is often disabling and occurs with associated symptoms.
It is a pounding or throbbing type of headache, and it's believed that the underlying pathophysiology of migraine headaches may be due to abnormal cerebral vasodilation or neuronal impairments,
Abnormal cerebral vasodilation is where the vasculature in your head becomes dilated abnormally and then there's, also this possible issue of neuronal impairments as well, and these will tie into some of the dietary factors or dietary triggers, that we are going to discuss.
First, a lot of times migraines have a prodrome. So there is a subset of patients that have prodromes with a migraine, headache which they have odd signs and symptoms that precede the migraine headache.
A migraine headache can occur with or without an aura.
There's, often nausea and vomiting associated with a migraine headache.
There can be photophobia and phonophobia. Here, photophobia is sensitivity to light.
Phonophobia is sensitivity to sound and then oftentimes migraine headaches are exacerbated or worsened by physical activity and better with rest and being in dark places.
But the topic of this article is that migraine headaches can be initiated or triggered by a wide variety of dietary causes.
What are some dietary triggers of migraines?
 1. Caffeine 
Caffeine is a methylxanthine stimulant and caffeine acts as an antagonist at adenosine, a1, and a2a receptors, and adenosine seems to be linked to cerebral vessel vasodilation and, as we mentioned before, migraines appear to be related to abnormal cerebral vasodilation,
6.3 to 14.5 percent of individuals who have migraines report caffeinated beverages like coffee as a trigger of migraines and the interesting thing that we also see is that caffeine can be used to treat headaches as well.
So there is this property of caffeine, where caffeine can actually improve headaches in some instances and then, if an individual has a lot of coffee and they stop coffee for a while, they can get rebound headaches.
So there is some connection here between caffeine and migraines, but caffeine does seem to play a role as a trigger in some individuals who get migraines.
So some examples of caffeinated beverages that may trigger a migraine in some individuals include caffeinated coffee, tea, soft drinks, and energy drinks.
2. Chocolate
Chocolate contains many vasoactive biogenic amines as well as caffeine.
So again, it contains caffeine and, as we mentioned before, caffeine may be a trigger of migraines in some individuals – and we see this word here as vasoactive (Migraine Food Triggers).
So chocolate has vasoactive biogenic amines, which may potentially lead to cerebral vessel vasodilation as well and 1.4 to 22.5 percent of individuals report chocolate as a trigger of migraines, so a little more variation here with regards to it being a possible trigger in some individuals.
Read more, Healthy Foods – 5 Products in Your Kitchen You Should Throw Away
3. Monosodium Glutamate or MSG.
Monosodium glutamate is a common food additive that provides a savory, taste or umami.
It is the amino acid glutamate that gives it that flavor, and what is interesting to note with regards to migraine headaches caused by MSG consumption, is that MSG, after being eaten, may trigger a migraine within one hour.
So it's pretty quick and the migraine often resolves within 72 hours and then what's also interesting to note here is that migraines caused by MSG often have additional associated symptoms, and there's, a long list of associated symptoms, including face flushing, where the face becomes a very red face and chest pressure can occur, burning sensation in the neck and shoulders can occur.
Dizziness and abdominal discomfort can also occur.
Where can we actually find MSG?
MSG can oftentimes be found in certain seasonings, chips. So a lot of chips can have MSG.
Processed meats can also have msg. We can see it in fast food, instant, noodles, and Chinese food.
4. Nitrites and Nitrates
Nitrites and nitrates are commonly used as food preservatives. Nitrites can be processed to nitric acid, which has vasoactive properties.
So this is the reason why we see nitrites being a cause of migraine headaches and it's also noted that in individuals who are experiencing the episode of migraine headaches that their plasma nitrite levels are higher during those migraine attacks.
Where can we see nitrites and nitrates?
Nitrites and nitrates can be found in processed meats oftentimes. We can see it in hot dogs, bacon, and salami those types of processed meats,
5. Aspartame
It is an artificial sweetener and it has mixed evidence as to whether consumption of aspartame triggers a migraine.
Some evidence suggests that it does trigger and some evidence doesn't seem to support this, but in individuals who may be triggered by aspartame consumption, it might trigger in approximately 9 percent of migraine patients.
And where can we see aspartame?
Aspartame can be found in the diet, beverages, beverages, like diet Coke, diet Pepsi, and we can also see it in certain types of chewing gum as well.
6. Tyramine
You might be wondering what tyramine is?
Tyramine is a biogenic amine and it's derived from the amino acid tyrosine, and there's, some mixed evidence again as to whether tyramine does trigger migraines or not again.
Some evidence suggests that it does.
Where can we find tyramine?
Tyramine can be found in chocolate.
So again, chocolate is another important dietary trigger, also try to avoid wine and aged cheese.
7. Dairy
vasoactive compounds such as tyramine as we just mentioned, can actually be found in certain dairy products.
We mentioned aged cheese before, but we can also see it in other types of dairy products as well,
so tyramine can be found in aged cheese, as we mentioned before so 4.1 to 18.5% report aged cheese as a trigger.
Some milk products, two to three percent report as a trigger, and then some ice cream can also lead to triggering of migraine headaches in a very small proportion of patients, where we see about 1.2 to 4.6 percent of patients reporting ice cream as a trigger.
8. Alcohol – Migraine Food Triggers
It is also an important trigger of migraine headaches. But we see that the reporting is quite variable, 1.4 to 51.6 percent report, alcoholic beverages as a trigger of migraines.
This probably is due to what we refer to as the alcoholic beverages themselves.
Some are probably more likely to trigger migraines as opposed to others. So certain studies report a high percentage, whereas others show lower percentages and it's, probably the alcoholic beverages that are being studied.
So certain alcoholic beverages contain higher levels of vasoactive compounds, including sulfites flavonoids tyramine again, so tyramine is very important and histamine.
Read more, Ayurvedic Diet – The Only Diet Plan That Ayurveda Recommends
What are some examples of alcoholic beverages that have higher levels of these vasoactive compounds?
So some examples include wine, specifically red wine, beer, and then other alcoholic beverages like gin and vodka, which have fewer amounts.
9. Citrus fruits
These may be a possible trigger of migraines, so consumption of citrus fruits may trigger or increase the risk of migraine headaches
Migraine with aura seems to be more likely to Be triggered by citrus fruits than migraine without aura,
Certain examples of citrus fruits that may trigger migraine headaches include, oranges, grapefruit orange juice, and grapefruit juice,
10. Walnuts
So again, some evidence that consumption of almonds may act as a trigger of migraine headaches.
11.  Fasting – Migraine Food Triggers
It was noted that during Ramadan incidence of migraine, headaches were three times higher.
It seems that hunger may play a role in triggering migraines and there's also, this connection with water deprivation as well.
Water deprivation is a common trigger of headaches, including migraines, so quite a variation in reporting here but 0.8 to 82 report, hunger, and fasting as a trigger of migraine headaches,
Then on the opposite side of the spectrum is overeating, so binge eating has been reported to occur in a large percentage of migraine patients, but it's, entirely clear that it's the act of overeating, as opposed to the certain food selections that are being eaten
So could be the act of overeating and if it is a very small percentage of patients, it's more likely that fasting is a trigger as opposed to overeating.
I hope you will like this information.
.
Summary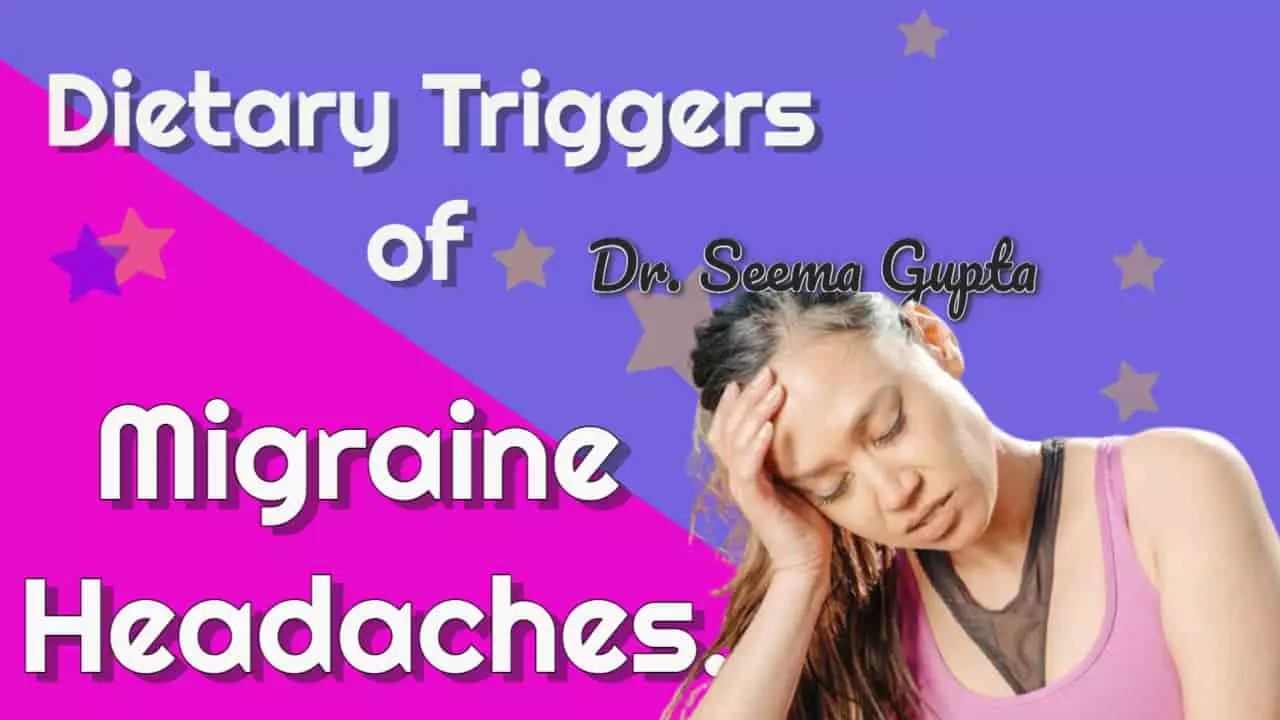 Article Name
Migraine Food Triggers - Dietary Triggers of Migraine Headaches.
Description
Migraine Food Triggers - Dietary Triggers of Migraine Headaches - Migraine Food Triggers - migraine is a pounding or throbbing type of headache, and it's believed that the underlying pathophysiology of migraine headaches
Author
Publisher Name
Publisher Logo