In this article, let's know how you can quickly fulfill the daily need for vitamins and minerals through common foods that do much more effectively and at a fraction of the price.
Out of various vitamins, minerals, and amino acids, we will know about the essential ones trending on the shelves of supermarkets and online.
1. Vitamin B12 – Supplements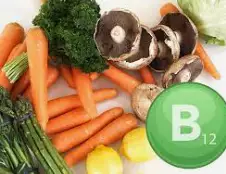 If you are a vegetarian, you have to take a vitamin B12 supplement.
This has almost become the slogan of the supplement industry. And because B12 is vital for our blood, nerves, and DNA, the concern seems more accurate.
Some of the signs of vitamin B12 deficiency include extreme tiredness, pale yellow skin, brown nails, mouth ulcers, and depression.
So does that mean if we experience any of these signs, we need to turn on non-vegetarians or supplements as our last resort?
Of course not.
Nature would indeed be bankrupt if that were so. Not many know that food, when sprouted gets rich in vitamin B12.
So if you consume sprouts the right way, you are in a safe zone, even once a week.
Apart from sprouts, wheatgrass, moringa leaves, dairy products, fermented rice, Indian gooseberry, beetroot, and mushrooms are some potent sources of vitamin B12.
A study by Stanford University showed that if one consumes probiotic-rich food, the bioavailability of vitamin B12 increases manifold.
So make sure you take care of your gut health by including the fermented foods traditional to your area and stay away from synthetic B12 pills.
2. Vitamin C – Supplements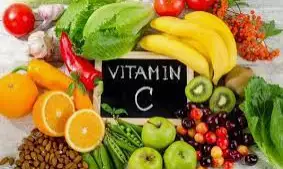 Do you have bleeding gums, or do you often suffer from mouth ulcers?
If you have, your body is screaming for vitamin C and not vitamin C pills. Nature has provided such abundant sources of vitamin C to us that if we still have to pop pills, it's a shame. Amla, Lemon oranges, guava, and capsicum are excellent sources of vitamin C.
Most vitamin C supplements contain an extract from these foods. However, science is now telling you that nutrients get absorbed the best when consumed as a whole and not in isolation.
With vitamin C equal to that in 20 oranges, Amla is the best food to fulfill vitamin C deficiency.
When the curry is almost cooked, add it to it, the steam will cook it, and then you can have it as a pickle.
A simple trick to keep all vitamin C-related issues at bay.
A powerful antioxidant that helps build collagen, vitamin C foods are a must to keep your blood vessels and skin healthy.
Other than what we have discussed, there is another issue that these supplements are not regulated by an authority, so the concerns about their toxicity are genuine.
Certain studies have found heavy metals and toxic substances in many supplements.
The supplementation industry thrives on our poor lifestyle habits. Frankly, fulfillment of vitamins and minerals should never be an issue if we stick to a homely diet, adequate exercise, and proper rest.
Of course, if prescribed by a doctor, you can take them in rare cases.
Read more, Home Remedies for Detoxification – How to Detox Your Whole Body
3. Calcium.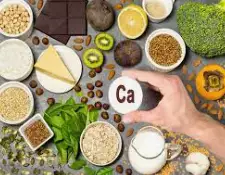 Young and old alike extensively consume calcium tablets, hoping to strengthen their bones. However, little do they know that these calcium tablets can do more damage than good.
Of course, calcium is essential for bone health. 99% of calcium is stored in your bones and teeth.
The body signals a lack of calcium through tooth decay, cavities, cracking of joints, and white patches on the skin.
But the question is why even after consuming calcium tablets.
Firstly, calcium absorption is never easy as it requires an acidic environment, and hence it is never recommended post-sunset. Calcium is fat-soluble. Going fat-free or popping calcium pills with water won't help much.
Most importantly, the problem with most calcium supplements on the market is that they are synthetically produced, or the source is not mentioned.
It could even be sourced from animal bones. Such calcium is not absorbed properly in the body and gets deposited.
This can lead to cataracts of the eyes and calcification of arteries, kidneys, and gall bladder stones in the long run.
So, just a little purified chuna that you can get from a paan shop in curd or any other oily medium like curry can be the best natural supplement for calcium.
Even Phool Makana roasted in ghee or any other cold-pressed oil can give a run for their money to any calcium tablet in the market.
Seek out milk products. Peanut butter is also rich in calcium. It is worth noting that sometimes we consume enough calcium, and still, the signs do not vanish.
In such cases, it is most likely due to the deficiency of vitamin D. Vitamin D is essential for the absorption of calcium in the body.
This is also why you would often see calcium tablets come with synthetic vitamin D added to them. No source can even come close to the sun when it comes to vitamin D. Still, desi cow's milk, desi cow's ghee, and mushrooms are good food sources to include in your diet.
4. Biotin – Supplements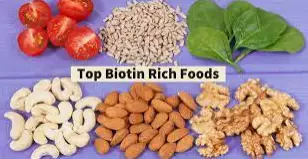 Biotin is a water-soluble vitamin. Since it plays a crucial role in the health of your hair, it has been named Vitamin H. That's a part of the vitamin B family.
It's another supplement that is being promoted nowadays, so much so that for any problem related to hair, the first thing that comes to mind is, am I biotin deficient?
Many of us mindlessly pop these pills without realizing that biotin deficiency is so rare that there isn't enough evidence to establish a recommended daily allowance.
Our intestines often produce it in excess of what the body requires. Eating biotin pills is like pouring water over a filled glass.
Still, the companies want to feed you how deficient you could be in biotin constantly.
Some signs indicating biotin deficiency are if you get red rashes all over your skin or experience a sudden hair fall.
People who have a habit of drinking raw eggs are susceptible to biotin deficiency.
However, its deficiency can easily be fulfilled only if you have whole grains, dairy products, nuts, and bananas in your weekly diet.
The health of our hair is mainly dependent on the health of our digestive system.
So instead of popping pills, if you take care of your gut by including probiotic-rich foods like Idli, dosa curd, etc., you can forget what biotin is.
Five minutes of rubbing nails together, also called Balayam, is an easy exercise that maintains the excellent health of hair by strengthening the keratin level.
The problem is that we underestimate the body's intelligence. If our body can heal a broken bone, just by the right environment created by plastering around it, it can make biotin too.
All you need to take care of is the environment.
Read more, Back Pain Treatment|Back Pain |Ayurvedic Therapy
5. Zinc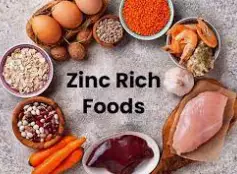 Even though a trace mineral, zinc is vital for the robust immune system and production of testosterone in males.
If you often get sick or your muscle growth is slow, your beard doesn't grow uniformly, or you suffer from inadequate sperm count or inflammatory skin issues, it could be zinc deficiency.
What causes zinc deficiency in the first place?
Eating many refined sugary foods, prolonged use of antibiotics, over-exercise, weak digestion, and high-stress levels can trigger zinc deficiency.
Still, one need not take refuge in pills anyway, and only if you stick to a homely diet that includes a variety of whole grains, legumes, nuts, especially cashews, seeds, unsweetened cocoa powder, and essential dairy products, zinc deficiency will cease to bother you,
a practical and tasty remedy that beats most supplements on the market is to consume one glass of cow milk with one teaspoon of cocoa powder mixed in it.
6. Fish oil.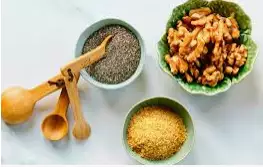 You spend the day without consuming fish oil capsules is a crime. That's how the supplement industry projects it.
Of course, fish oil, a rich source of omega 3, is an essential nutrient for the brain n heart and the absorption of various fat-soluble vitamins.
Dry, scaly skin, dry hair, dry eyes, dryness of the brain nerves causing loss of memory and depression, and chest and joint pain are some of the critical warning signs to know that your body is craving omega threes.
All these signs indicate that your body has gone dry within.
People on a fat-free diet who omit all oils, nuts, and seeds from their diet are the most susceptible to omega-three deficiency.
Preparing curries in our traditional cold-pressed oils as per our region and adding a teaspoon of desi cow ghee over the cooked curry will ensure that these signs do not originate in the first place.
But is fish oil the only source of omega threes?
Of course not.
Flaxseeds and walnuts are two proven sources of omega threes. Most plant-based omega-three supplements in the market are flaxseed oil-based.
You can top up roasted flaxseeds on your meal. Having three soaked walnuts with flaxseeds tea is the best natural omega-three supplement. You can supply your body with.
Read more, Enlarged Prostate Diet – What Food to Eat for Enlarged Prostate
7. Collagen – Supplements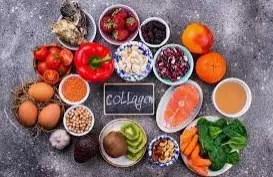 Collagen is an amino acid mainly responsible for skin strength and elasticity. The collagen trend has spread from cosmetic injections to products you see everywhere.
Food, cream, pills, and powders all tout collagen as the way to be healthy vibrant skin. But before you spend your money on them, consider if your body needs them.
Companies don't want you to know that collagen is the body's most common substance after water.
It is the main structural protein in connective tissue, comprising over 70 to 75% of skin and 25 to 35% of whole-body protein.
They also don't want to tell you that your body is capable enough to make collagen as per its needs. It's been doing so forever.
However, due to our fast, modern lifestyle, we're compromising on sleep, the stress in everyday affairs and hope on junk and excess sugary foods is every day.
The body does not get the optimal environment to synthesize collagen. The warning sign of low collagen is when people remark that you look older for your age.
So is supplementation a solution?
The wise decision would be to take charge of your lifestyle, and your body will take care of collagen and even the 100 trends that are expected to come in the future.
Certain foods help build collagen.
First of all, vitamin C is essential. Make sure you include vitamin C-rich foods, then start having onion salad and meals.
It is a rich source of sulfur. It amps up collagen production.
Regular body massage with a cold-pressed oil builds up collagen-like no other.
Then copper is another essential mineral required for the body to build collagen.
A simple and easy way is to start having copper-charged water the first thing in the morning.
You can noticeably see a visible difference in your skin in a few weeks.
If you do just these three-four things and they try to eat regular home-cooked food, most of the time, there is no need for you to spend even a penny on collagen supplements.
With its rich soil, India produces so many grains, lentils, seasonal fruits, and vegetables that it's time we stop depending on these pills and turn to the real stuff.
And the fact is that the more we take medications, the more and more micronutrient supplements will be thrown at us. So let's stick to basics.
I hope you will like this information.
Summary
Article Name
Supplements: Try to recover deficiencies through common Foods
Description
Supplements: Try to recover deficiencies through common Foods
Author
Publisher Name
Publisher Logo